"The IAC(Infrastructure As Code) solution delivered by Dascase team has enabled us in using the same standardisation and  principles we already use in Software development"
— Robert Watkins, VP of Engineering
What we do?
We Plan, Build, Manage, Automate and Optimize your Cloud Infrastructure.
Let our team of Cloud experts become a trusted extension of your team, bringing years of Cloud experience to help you do what you do better, faster, and cheaper.
Our solution helps you get the most from the cloud by driving change across people, process and technology – all within the context of a long-term digital vision.
No matter where you start, we work with you to diagnose specific pain points and identify key focus areas. Then we create a tactical journey map that is tailored specifically toward your biggest opportunity areas and business goals.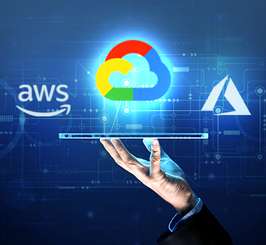 Public Cloud Providers
We have helped organisations to migrate their platform to all three major public cloud. Although majority of our customers are in AWS(purely due to the market share that AWS enjoys), we do have 20 to 30 percent of our customers running their production workloads in Azure & Google. In some cases we have even taken mixed approach of using hybrid cloud with a combination of these.
Our Method
Assessment: We perform a deep evaluation about your technical compatibility, business objectives and aspects related to the expected return on investment (ROI) and based on that, we will offer you with appropriate solutions.
Planning: We deliver the complete roadmap including the strategical procedures for adopting the best set of cloud services for your organization.
Implementation: We offer you a perfect design by developing an outstanding cloud computing architecture. Our design framework will work seamlessly for integrating your business with the latest cloud technologies, irrespective of the fact whether your preference might either be a public cloud or a private or a hybrid cloud.
Level Up Your Team: Upon completion of your project, we take the time to show your team How we built, What we built and Why. Our founding idea is to liberate our customers, so Knowledge Transfer is a key part of any project we do. Your team will get first-hand exposure to Cloud best practices and sufficient time to ask questions to ensure they feel comfortable with the Cloud environment we built.
There was a time when people believed that more team members means more productivity and more throughput. Its no more true after companies started adopting Devops culture. 

— Chairman, Dascase.
How it Works?
Our Cloud Solution experts assess your infrastructure, learn about your business and team, and provides guidance on your future plans. We focus on the 5 "Pillars" of the Well-Architected Framework–Reliability, Cost Optimisation, Performance Efficiency, Operational Excellence, and Security–and give you a report that shows how your infrastructure deviates from best practices in these areas.
We, in Dacase provides you the Cloud Transformation Services with a simple set of processes that enables you to understand each stages better, maintaining transparency.
Plan
Starting with a thoughtful plan can save a lot of pain in the end. We assess where you are today and show you how to get to where you want to be.
Independent assessment of your infrastructure

Plan a migration or prepare your infrastructure to Scale

Tighten security controls ahead of an Audit

Reduce your bill or do more with your current budget

Modernize your existing Cloud environment

Get a well architected review

Reliability

Cost Optimization

Performance efficiency

Security

Operational excellence
Our team of Cloud Solution experts can offer an independent assessment of your Cloud infrastructure, show you where you deviate from best practices, and help you chart a course to a faster, cheaper, and better infrastructure. We provide you a well-architected review.
The build and deployment pipeline and delivery model designed by these guys are just state of the art!
— Ajit George, Sysfore
Build
Our team of highly skilled Cloud experts can build your environment rightly, the very first time.
Design and build a Secure, Scalable, Resilient Cloud infrastructure

Learn with our team as we Build your environment

Learn what we Build

Learn why we Build

Learn how we Build

Level up your team with us

Let us be your training partner

We compliment customers with capable technical team

We provide expertise to customers without a dedicated technical team
Manage
Let our talented technical team manage your Cloud infrastructure / environment that frees up your best people to focus on what is strategic
for your business.
Continuous modernization using DevOps methodologies

We help you deploy the code pipelines faster

Make your infrastructure faster and cost efficient

Learn from our DevOps experts

We bring teams together using automation processes

Our DevOps solutions help you with:
Continuous deployment, Testing, Delivery, Feedback, Planning, Development, Integration, and Support
Infrastructure as code allowed us to perform 10x more builds without adding a single person to our team.
— Build Engineer, BeBop Technologies